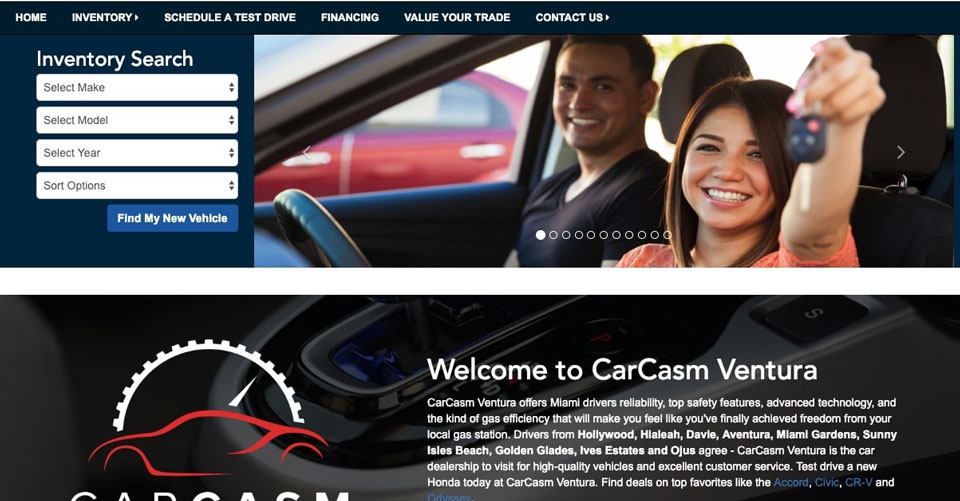 The days when a good website was as simple as a little HTML, a handful of keywords, and a few photos is far behind us. These days, car dealerships need to be on top of their game to stay competitive. When you have a sales team to keep on their toes, and finance, parts, and service professionals that keep your business humming, a car dealer website that's "good enough" just won't cut it. A site that keeps customers coming back — and converts browsers to buyers — requires a design company that understands the art and science — and understands the car industry. Enter Carcasm. The tips below are drawn from our experience building sites that convert for car dealerships from coast to coast.
Car Dealer Website Essentials
Good design is a bit like chess. The basic rules aren't that hard to learn, but you can spend a lifetime perfecting strategy. Carcasm gives you the tools to manage as much or as little of your site as your time and business dictate
Know Your Customers
Good design is more than photos, a clean layout, and vehicle specs. It's good UX (user experience), removing friction and pain points in the process. Clean navigation, effective on-site search, and ensuring customers don't need to leave your site to find the information they need most all increase time on-page and decrease customers' bounce rates. That, in turn, eases the transition from browsing to buying.
Know Your Why
Knowing why you're doing what you're doing leads naturally to how you plan your approach; your why dictates your "how." The approach taken by a dealership focusing on value-focused offerings and pre-owned models is going to be different than one that specializes in imports, rare models, or classics. Your design needs to be responsive — not just in the sense of mobile and tablet compatibility, but also responsive to the needs of a very particular clientele.
Know Your Competition
Odds are better than even that you're not the only Toyota dealership or used car lot in your county, or even in your ZIP code. You're also competing against a series of sites — KBB, Edmunds, AutoTrader, and CarGurus among them — with no geographical "home" and no real roots in your area and its customers. That doesn't mean you can't learn a thing or three from them; explore these sites, learn what they do best (clean UX, good search, mobile-friendliness), and incorporate the best into your site without sacrificing what makes your dealership unique. Using a template-based design allows you to add widgets and extensions that give you the same functions as those major players, without having to leave behind what makes you unique.
Leave Room to Grow
Every major auto group starts out as a single dealership. Whether you're planning on expanding your offering of makes and models by acquiring a neighboring dealership down the line, or you're planning to become a dominant force in your region, one thing remains true: you'll want to create a unified identity that allows each make to shine (and complies with their brand guidelines), but that also maintains a cohesive brand. Templates help you do this whether you're a sole dealership or a major auto group.
Maximize Your Time
For car dealerships, every minute spent on design and maintenance can feel like time taken away from other mission-critical tasks. Your site needs to be a living, breathing thing in order to stay relevant, but it should not — and cannot — be a time-sink. One advantage to the templates offered by Carcasm is the ability to maintain every aspect of your site — search results, landing pages, inventory pages, even SEO — with a minimum of time and effort.
You can also outsource various aspects of your site management to us, including content marketing, IT, and Google remarketing, in order to further maximize your time. To get started, call (954) 361-1CAR or email support@carcasm.com to see how we can help your dealership reach its full potential.